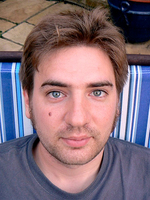 Stuart Dredge is a fountain of mobile, music and technology knowledge. Writing for the likes of Pocket Picks, Pocket Gamer (.biz &.co.uk) and music Industry bible Music Ally, Stuart knows his stuff.
When Stuart agreed to have some questions thrown at him I was delighted and I'd like to thank him for taking the time put put finger on key to come up with some really compelling answers.
Why do you think we've not seen a successful mobile dedicated social network yet, and is the Vufone a possible answer to this?
I think there have been some, picking up hundreds of thousands or even millions of users. I wrote a feature on mobile social networking last year, and was genuinely surprised at how popular a lot of the mobile-only social networks were. Especially in countries with low PC/internet penetration, mobile is the logical platform for social networking, so it's only a matter of time.
But from a personal viewpoint, I don't really want to sign up to a mobile-only social network. The social network my friends and colleagues are on is Facebook, so that's the social network I want to access from my phone. In that sense, I'm more interested in how Facebook is adding mobile-specific features to its apps. But as I said, that's just my personal view – there are mobile-only social networks out there doing well.
Sorry, Vufone is a new one to me! Having looked at its website, I like the fact that it's about connecting you to your existing social networks and social media sites, rather than trying to herd you into a new mobile-only one.
Who would you say is leading the way in social mobile gaming, and will this genre of title be the 'next big thing'?
In terms of platforms, iPhone is where all the exciting social gaming stuff is being done right now, and the new features in the upcoming iPhone 3.0 software will build on that, with micro-transactions and downloadable content.
But in terms of the people doing it, I think the leaders have been the social web games firms – Playfish, Zynga, SGN and so on – companies who've been helping to define the early days of social gaming on Facebook, and have brought their ideas, technologies and business models to iPhone. They've spent the last 12-18 months figuring out how people play socially, so have plenty of learnings to build on.
Other companies are catching on too, though. There's a UK developer called Distinctive Developments which has made a game called Anytime Pool that works across Facebook, iPhone and mobile, an Australian developer called Firemint that's got a technology for racing game players to upload video replays of their best laps to YouTube, and a US publisher called ngmoco that's putting Twitter shouts into its games so you can brag about your scores.
These kinds of social features are going to become much more common, and hopefully on other mobile platforms besides iPhone too.
What do we need to see happen for social networking on-handset to become as common place as it is off-handset?
Flat-rate (or at least more transparent) data tariffs is crucial – it's fairly clear that if people don't know how much they're charged to do something on their phone, they won't do it. Since I got an unlimited data contract, I just don't think about those issues any more.
The rollout of more app stores will help too, so people can download social networking apps and have an icon sitting on their phone, rather than have to use WAP (although going back to those emerging markets, social networking based on WAP or SMS will probably be more important there).
And lastly, I think handset makers and operators realise that social networking is a big selling point for phones now – there's even handsets like the INQ1 where it's THE selling point. Meanwhile Nokia's big new thing is social location, which includes making it easy for you to connect to all your social networks the first time you fire a handset up. That'll have a big impact too, I think – increasingly when you buy a new phone, it'll prompt you to access your social networks.
What do you expect will be the next major technological development to affect mobile gaming and the way we interact with handsets?
Mobile gaming? Rather than a new technological development, I think the big thing is that all the cool technological developments that have been theoretically possible but horribly painful/complex/expensive to do in recent years will become more doable. So games developers will be able to get their teeth into connectivity, social features, location, camera integration, social features, episodic/downloadable content and so on. And actually make money from them!
Another big trend is that mobile gaming is getting its own identity. Some people are still trying to shoehorn console games into handsets, of course, but plenty more developers have a clear idea of how to use the unique aspects of these devices. They're intrinsically connected, increasingly have touchscreens/accelerometers, and the gaming usage/patterns are quite different to PSP and DS (and even more so from console). It's an exciting time to be a developer or a journalist in this area.
But lastly, I am very excited about the social aspects of mobile gaming – both in terms of fully social games, and regular games having social aspects added to them – letting you brag about your high scores on Twitter and Facebook for example.